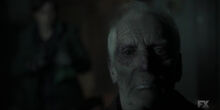 Thaddeus Mobley, later Ennis Stussy, is a recurring character in Fargo Season 3. He is the stepfather of Gloria Burgle.
Early Life
Before moving to Eden Valley, Minnesota in 1980, Thaddeus lived in Los Angeles, California. He was an award-winning science fiction author best known for his book "The Planet Wyh". He escaped to Minnesota for safety after attacking Howard Zimmerman with a cane. He took the name Ennis Stussy and fled Los Angeles. Ennis moved to Eden Valley, Minnesota in 1980. He was married to the widowed mother of Gloria Burgle in 1982, however they were only together for four years.
Apppearances
Trivia
His alias, "Ennis Stussy" came from the toilet bowl in his motel room in Los Angeles. The company logo, "Dennis Stussy & Sons" had eroded, only to leave behind "Ennis Stussy".
Although Ennis shares the same surname as Emmit and Ray Stussy, he is not related to them. It is unknown if Dennis Stussy, the owner of the toilet company, was related to Emmit and Ray.
Community content is available under
CC-BY-SA
unless otherwise noted.