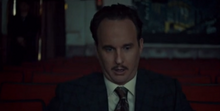 Mort Kellerman is a minor character in Fargo Season 2 and a recurring character in Season 4.
Biography
Kellerman became a major player in the Fargo, North Dakota underworld by the late 1940s. He was an associate and rival of Dieter Gerhardt, leader of the most powerful gang in the region: the Gerhardt Crime Syndicate.
Season 2
In 1950, Kellerman's rival Dieter Gerhardt retired, passing the reins to his son Otto. Kellerman did not have the same respect for the son as he did for the father, and considered himself to now be the most powerful mobster in Fargo. To assert his dominance over Otto, he brutally murdered Dieter in 1951, shooting him in the head 19 times.
Not long afterwards, Kellerman attends a screening of Moonbase Freedom, starring Ronald Reagan. Otto shows up with his young son, Dodd, ostensibly to ask for a seat at the table. Kellerman taunts Otto about his father and tells him that there's no table and that everyone else "sits on the floor." Before Kellerman can give the order to have Otto killed, Dodd, who managed to sneak behind him, stabs him in the back of the head, killing him.
Season 4
After intercepting a shipment of weapons before they could reach the Faddas, Loy ordered 200 of them sold to Mort at cost in exchange for his loyalty.
When Mort came to town to complete the deal, Loy reminded him of the terms as he handed over the weapons.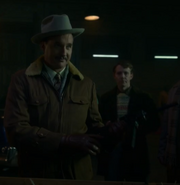 Following up on the deal, Kellerman and a team of men travelled from Fargo to Kansas City and attacked the Fadda family house, a shootout ensued between them and Gaetano Fadda. This resulted in many of Kellerman's men dead and Mort and his other men running away, however not before they could shoot and kill Chianna Fadda, mother of Gaetano and Josto, sparking the war between the Faddas and Cannon Limited.
Murders Committed
Episode appearances