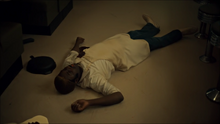 Henry Blanton is a minor character in Fargo Season 2. He is one of the three victims of the Waffle Hut Triple Homicide.
History
Early life
Henry was a football player in high school. He is known for having gotten the single-season touchdown record of 31 during his Junior year. A record which, as of 1979, still stands. (Waiting for Dutch)
Waffle Hut Triple Homicide
Henry is seen in the kitchen preparing food when Rye Gerhardt first enters the diner. The second he sees Rye shoot Irma Mundt, he grabs a frying pan and runs out of the kitchen towards Rye, screaming from the adrenaline the entire way. As he runs around the counter to attack, Rye turns around and shoots him dead. (Waiting for Dutch)
Episode appearances
Trivia
Out of the three murder victims, Henry is the only one to be shot once before dying.