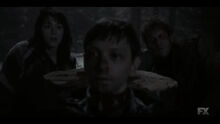 Golem is a recurring character in Fargo Season 3. He is an assassin working together with Yuri Gurka and Meemo for Narwhal.
History
When Emmit Stussy frames Nikki Swango for the murder of his brother, Ray. Golem is ordered by V.M. Varga to lethally inject Nikki. Golem who is posing as a police officer finds Nikki and attempts to lethally inject her. However Gloria Burgle stops Golem before he can kill Nikki but Golem Manages to escape.
Golem, Meemo and Yuri Gurka make a plan to attack the police bus Nikki will be on and kill her. When the plan is in action Golem along with Meemo kill the guard of the bus, however Nikki escaped with the help of Wes Wrench. Later, in a forest Nikki and Wes try to cut the handcuff they have on, Yuri and Golem hear this so they attack. Yuri fires arrows at them Golem attempts to finish Wes and Nikki, but when he tries to grab his knife he is stabbed by an arrow before he could get it. Wes and Nikki use their handcuff chain to strangle Golem with so much force it decapitates Golem, killing him.
Episode appearances
Murders committed
Unnamed Police Bus Guard: Stabbed to death (Alongside Meemo) (Who Rules the Land of Denial?)
Trivia
To be added.