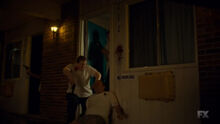 Gibson is a recurring character in Season 2. He is Ben Schmidt's superior.
History
Early life
Gibson took up the law enforcement career after his father, who worked under Elliot Ness as an ATF during the Prohibition era. (Did You Do This? No, You Did It!)
Making a deal
When Lou Solverson and Ben Schmidt arrive with Floyd Gerhardt in custody, Gibson asks Ben why she is here. He also asks about the butcher, whom they have an APB on both him and his wife. Gibson dismisses the two men as he and Hank Larsson go into the interview room to talk with Floyd. (Did You Do This? No, You Did It!)
Sioux Falls Massacre
To be added.
Episode appearances
Trivia
To be added.